They come from Chinese medicine and are points that form a path through which energy travels. Each project is divided into stages (points), and only the combination of stages, maintaining the correct sequence, allows for successfully completing the design process.
We follow this algorithm when solving each new design task. If the final result is a satisfied customer, it is a sign that the energy has taken the right direction and pace.
At the beginning of 2019, on the occasion of the 7th anniversary of the studio, it gained a new name and thus fresh energy for creative and design activities.
The seat of our studio is a beautiful historic Schaffgotsch Palace from 1890 located at 34 Kościuszki Street.
What the studio does:
• architecture,
• medical architecture,
• interior designs with turnkey supervision
• commercial and public utility projects
• residential construction and office projects – building permits, notifications, arrangements, deviations
• PFU, i.e. functional and utility programs for hospitals and clinics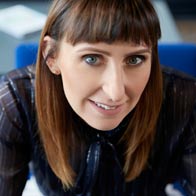 Maria Kobylańska
chief architect and founder of the studio
head architect and studio founder with over 10 years of experience in Poland and abroad. She graduated from the Wrocław University of Technology at the Faculty of Architecture and Urban Planning, and in 2012 she received the right to design without restrictions.
She gained experience in New York, USA, in 'Atelier New York Architecture', In Wiesbaden, Germany, in the 'Willen Associates' studio and two Wrocław-based studios 'BABW-Biuro Architektoniczne Bzdęga-Wiśniewski' and 'Pro Art Konopka'.
Since 2013, co-owner of the Lemur Architekci studio.
Additional completed studies and courses:
• ENVIRONMENTAL EDUCATION STUDY – Wrocław, Poland
COURSE: Feng Shui Academy
• THE STUDENTS ART LEAGUE OF NEW YORK – New York, USA
FIELD OF STUDY: Life Drawing, Anatomy of Models
• UNIVERSITY OF APPLIED SCIENCES – FH Wiesbaden, Germany
FIELD OF STUDY: Socrates/Erasmus, Exchange Program – Architecture
• The Silva Method – Silva Life System Program
2009, 2011, and 2019
• Google SketchUp 8 and Kerkythea 3D modeling and photorealistic visualization
June 2018
Privately, she travels a lot, sails and actively participates in architects' regattas, from which she has already brought a silver medal.
The "Executive design of the radiotherapy planning laboratory - X-ray computer tomograph in the Teleradiotherapy Department in Legnica as a branch of the Lower Silesian Oncology Center in Wrocław" designed by arch. Maria Kobylańska was prepared professionally by applicable regulations and standards. Thanks to the involvement of architects and contractors, the fully equipped and ergonomic laboratory was launched on time, which allowed for a quick start of patient examinations.
Full-discipline documentation prepared since 2013 is always compliant with the high standard of the Lower Silesian Oncology Centre, considering the conditions related to buildings under conservation protection, recommendations of manufacturers of assembled medical devices and suggestions of users. Projects are prepared carefully and on time, allowing for efficient laboratory launching and conducting research. Cooperation with the architect Maria Kobylańska is worth recommending to other investors.
We value cooperation with meridian sp. z o.o. for conscientiousness, diligence and punctuality. The commitment and understanding of the medical industry at the design stage allowed us to avoid additional costs and save time at the construction stage.
FUP (Functional Utility Program) - Launch of the magnetic resonance laboratory in the Center for Rehabilitation and Orthopedic in Kamienna Góra - the concluded contract performed the service on time. The quality of the project is unquestionable. Based on our cooperation, we recommend meridian sp. z o.o. as a contractor worthy of recommendation in the services provided.
The design work, inscribing the dental clinic into a functioning facility, runs smoothly and on time. The high quality of services provided by architects is conducive to cooperation and will enable the dental clinic to be launched on time. The ordered, full-discipline civil engineering design has been done according to requirements and in a professional manner.